ETHIOPIA | Sidama Bensa Alo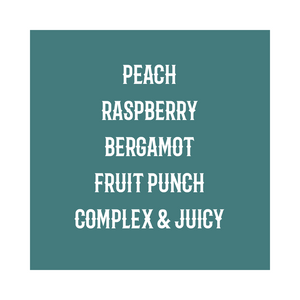 Black Sugar Roastery 推岀的自家烘焙系列 —


厭氧日曬衣索比亞 Sidama Bensa Alo


ETHIOPIA Sidama Bensa Alo Anaerobic Natural
蜜桃、覆盆子、佛手柑、雜果賓治,複雜果汁感
Peach, Raspberry, Bergamot, Fruit Punch, Complex & Juicy 
豆種 Variety | 74158
我們很高興向大家介紹我們在埃塞俄比亞的最新也是第一家直接貿易合作夥伴 — Alo!
Alo Coffee 是一家著名的精品咖啡岀口商,曾獲得多項殊榮,包括 2021 年埃塞俄比亞精品咖啡大賽冠軍。他們的使命是生產高品質的埃塞俄比亞咖啡,保持嚴格的質量控制,並提供堅定不移的客戶承諾。他們的咖啡品質最高,更因最近在台灣的手沖咖啡大賽和泰國咖啡師大賽中獲勝而備受矚目。
今年早些時候,我們在訪問雅典期間有幸會見了 Alo 的團隊,並對他們的優質咖啡和熱情印象深刻。這也是我們很興奮能與他們合作的原因。
我們相信,Alo 的咖啡將為香港的咖啡愛好者帶來全新的體驗。
這款厭氧日曬咖啡採用了獨特的處理方法 — 厭氧發酵可以保留咖啡果實中的風味物質,使咖啡的風味更加濃郁、複雜。入口後,酸質明亮,甜感豐富,口感醇厚,猶如雜果賓治般的複雜果汁感餘韻悠長。是一款非常適合手沖的咖啡。
We are thrilled to introduce our newest and first Direct Trade partner in Ethiopia, Alo!
Alo Coffee is a prominent exporter of premium specialty coffee, distinguished by multiple accolades, including the 2021 Ethiopia Cup of Excellence. Their mission revolves around producing high-quality Ethiopian coffee, maintaining stringent quality control, and providing unwavering customer commitment. Their coffee is of the highest quality, and they are currently one of the most popular farms in the industry, having won the Taiwan Brewers Cup and Thailand Barista Championships recently.
We had the pleasure of meeting the team during our visit to Athens earlier this year and were impressed with their exceptional coffee and enthusiasm. That's why we are excited to partner with them.
This anaerobic natural coffee uses a unique processing method. Anaerobic fermentation preserves the flavor compounds in the coffee fruit, resulting in a more intense and complex flavor profile. The coffee has a bright acidity, rich sweetness, and full-bodied mouthfeel. The complex fruitiness, like a medley of mixed fruits, lingers long after the sip. This is a great coffee for pour-over brewing.

 Packing Size - 100g