COLOMBIA | Finca El Paraiso Lychee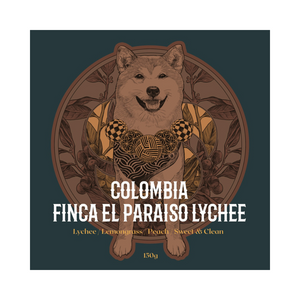 Black Sugar Roastery 推岀的自家烘焙系列 —


雙重厭氧日曬哥倫比亞 Finca Paraiso Lychee


COLOMBIA Finca El Paraiso Lychee Double Anaerobic Natural
荔枝、香茅、蜜桃、甜美而乾淨
Lychee, Lemongrass, Peach, Sweet & Clean

豆種 Variety | Castillo
哥倫比亞天堂莊園位於 哥倫比亞 Cauca 省,是知名的精品咖啡產區 — 其莊園主 Diego Samuel Bermúdez 先生是一位創新者,一直不斷研究新的咖啡種植和加工技術,以提高咖啡的品質。莊園擅長以不同的厭氧發酵工藝處理咖啡,能去除咖啡中的雜味,突出咖啡的豐富精彩的明亮風味。而在 2018年,天堂莊園的咖啡在哥倫比亞COE競賽中獲得第10名,並創下哥倫比亞史上競標金額最高的紀錄。
在品嚐這款咖啡時,你會感受到荔枝、蜜桃和花香的濃郁香氣。入口時,甜美的荔枝和水蜜桃風味在口中交織,伴隨著輕盈的香茅氣息,讓人感到清新怡人。咖啡的平衡感重,讓人回味無窮。
From the lush hills of Colombia's Cauca province comes a heavenly cup of coffee from Finca El Paraíso.
The estate is owned by Diego Samuel Bermúdez, a visionary coffee farmer who is constantly innovating to improve the quality of his beans. He is particularly skilled in using anaerobic fermentation techniques, which help to remove impurities and highlight the coffee's bright, complex flavors. In 2018, Finca El Paraíso's coffee won 10th place in the Colombian Cup of Excellence competition and set a record for the highest auction price in Colombian history.
When you taste this coffee, you'll be enveloped in a heady aroma of lychee, peach, and floral notes. The first sip reveals a sweet blend of lychee and peach flavors, with a touch of refreshing lemongrass. The coffee is beautifully balanced, with a long, lingering finish.
This is a truly special coffee that is sure to delight any coffee lover.
 Packing Size - 150g