Kalita Wave Dripper 155_SS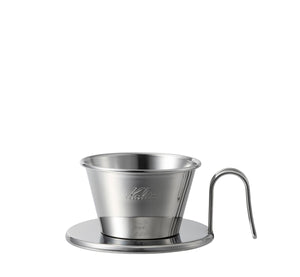 A flat-bottomed dripper with three holes. Contact between the dripper and the filter is kept to a minimum to encourage smooth coffee extraction. The Wave drippers allows beginners and professionals alike to make a delicious cup of coffee.
Made in TSUBAME, which is famed for their high quality metalworking. This product, engraved with the "Made in TSUBAME" mark is proof that this product has undergone Tsubame's strict quality control procedures.
Material | Stainless Steel 
For 1 to 2 cups
Use with wave filter 155
Product weight | 177g
About Kalita
Kalita is a family-owned Japanese company which has been making coffee equipment since the 1950s. One of its signature products would be The Wave.