Hario V60 Ceramic Dripper 01 (White)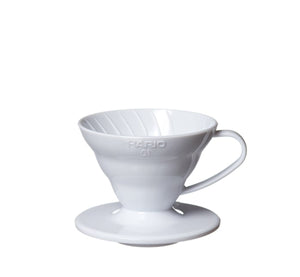 One of the most common and used coffee drippers in the world.
The V60 has a conical shape for deeper layering of the coffee grounds, producing a rich umami flavor. The single large hole provides the ultimate freedom—pour the water quickly for a light flavor or slowly if you like your coffee rich. The dripper is made from Arita-yaki, a traditional style of Japanese ceramics with a history of 400 years. Each one is handmade by a local craftsperson. The exquisite ceramic dripper and the functional beauty of your V60 product create a stunning contrast between the traditional and the modern.
The design of the V60 dripper is very suitable for both brewing beginners or advanced brewers who are looking for more flexible brewing tools. 
Color | White
Size | (W)119 × (D)100 × (H)82mm
Capacity | 1-2 cups
Material | Porcelain
About Hario
The company has been dedicated to the design, production, and sale of heatproof glass since it was founded in 1921 and is the only heat-proof glass manufacturer in Japan to have a factory. It's the leading glassware brand in the coffee industry.