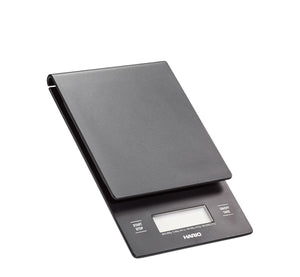 Measurement matters for a good brew!
A scale with a timer for hand dripping. The V60 measures both the amount of coffee that has dripped and the time that has elapsed for the perfect drip coffee.
Color | Black
Size | (W)120 × (D)190 × (H)29mm
Scale measures in 0.1 gram increments
Include a drip timer
Auto power off in 5 minutes
About Hario
The company has been dedicated to the design, production, and sale of heatproof glass since it was founded in 1921 and is the only heat-proof glass manufacturer in Japan to have a factory. It's the leading glassware brand in the coffee industry.