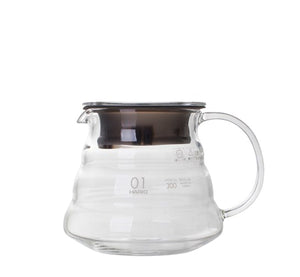 Happy Brewing with Functional Tools!
The V60 server has measuring lines that help you brew coffee for 1 to 3 people easily. It's simplistic and attractive, suitable for any home or cafe settings. The heat-resistant plastic handle also ensures easy carrying no matter how hot the beverage is inside.
1 x Hario V60 coffee server & Lid
Material | Borosilicate glass
Microwave-safe
Dishwasher-friendly
Easy to clean
Capacity | 360ml
Dimensions | (W) 130mm x (D) 107mm x (H) 106mm
About Hario
The company has been dedicated to the design, production, and sale of heatproof glass since it was founded in 1921 and is the only heat-proof glass manufacturer in Japan to have a factory. It's the leading glassware brand in the coffee industry.