COLOMBIA / ETHIOPIA | SUGAR INU (B.S. House Blend)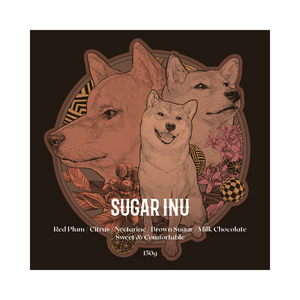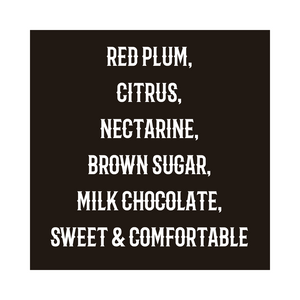 Black Sugar Roastery 推岀的自家拼配系列 —
SUGAR INU 哥倫比亞 / 衣索比亞 (B.S. 自家拼配)
SUGAR INU COLOMBIA / ETHIOPIA (B.S. House Blend)

豆種 Variety | Mixed Varieties
處理法 Processing | Washed & Natural 
紅布冧,橘感, 桃駁李,黑糖,牛奶朱古力,甜美舒服
Red Plum, Citrus, Nectarine, Brown Sugar, Milk Chocolate, Sweet & Comfortable

作為年輕的 Roastery,製作咖啡拼配豆對於我們來說也是一大挑戰 — 因為我們在烘焙上要處理兩款不同的咖啡豆,處理法的不同令其風味在烘焙中的風味走向也是不一樣。同時我們亦要考慮在比例上如何平衡兩款咖啡的風味,兩者如何影響整體的風味呈現等。整個過程十分漫長,但讓我們學習了更多。
SUGAR INU 和我們另一款自家拼配不一樣的是,這款 House Blend 是來自兩個不同的產地 — 哥倫比亞和衣索比亞,兩者均為整個拼配帶來別樣的風味展現。前者的風味大膽豐富,紅布冧和黑糖的甜感,猶如牛奶朱古力的醇厚口感;而後者則加強了橘感的酸度體現和精緻的桃駁李風味,整體呈現岀甜美而舒服的感受,尤其適合作為牛奶咖啡的基調。

As a young Roastery, making coffee blends is also a big challenge for us. While we have to deal with two different coffee beans in roasting, and the different processing methods make their flavours in roasting different. At the same time, we also need to consider how to balance the flavours of the two coffees in proportion, and how the two affect the overall flavour presentation, etc. The whole process was long, but let us learn more.

The difference between SUGAR INU and our other House Blend is that this House Blend comes from two different origins — Colombia and Ethiopia, both of which bring a different flavour to the whole blend. The former is bold and rich with the sweetness of red plum and brown sugar, like the mellow taste of milk chocolate; while the latter strengthens the acidity of orange and the delicate flavour of peach and plum, presenting a sweet and comfortable feeling overall, especially great as a base note for coffee with milk.
𝗕𝗹𝗮𝗰𝗸 𝗦𝘂𝗴𝗮𝗿 𝗥𝗼𝗮𝘀𝘁𝗲𝗿𝘆 與莊園關係緊密,確保咖啡豆質素,及致力與莊園建立良好關係。烘焙風格上,主要以中度烘焙為主,令大家更容易箤取咖啡中的多樣風味。150g 的包裝設計和親民的價格亦有助於大家以轉換不同手沖咖啡豆。

𝗕𝗹𝗮𝗰𝗸 𝗦𝘂𝗴𝗮𝗿 𝗥𝗼𝗮𝘀𝘁𝗲𝗿𝘆 has a close relationship with the estate, ensures the quality of coffee beans, and is committed to establishing a good relationship with the estate. In terms of roasting style, it is mainly medium roasting, which makes it easier for everyone to extract the various flavours of coffee. The 150g packaging design and affordable price also help people switch between different hand-dripped coffee beans.
Packing Size - 150g