Hario Coffee Mill Smart G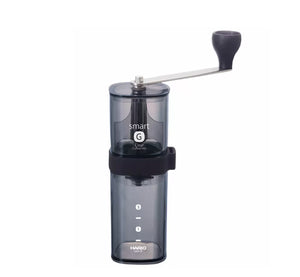 A compact and portable coffee mill.
This coffee mill has a clear body, allowing you to see the beans at a glance. The handle slots into the band for easy storage. The burrs are washable.

With such a compact coffee mill, it still offers a wide range of ground sizes that available for various brewing methods.
Color | Transparent Black
Size | (W)150 ×(D)53 × (H)190mm
Capacity | Coffee grounds 24g
Burr | Ceramic
About Hario
The company has been dedicated to the design, production, and sale of heatproof glass since it was founded in 1921 and is the only heat proof glass manufacturer in Japan to have a factory. It's the leading glassware brand in the coffee industry.