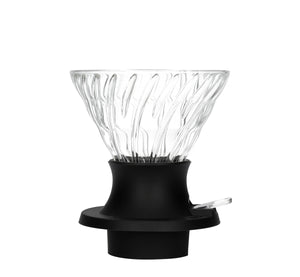 Immersion dripper SWITCH that allows you to brew differently.
This dripper extracts coffee after immersing ground coffee in hot water. It starts dripping after the switch is pressed, allowing anyone to extract coffee evenly.
Color | Black
Size | (W)118 × (D)115 × (H)133mm
Capacity | Finished capacity 200ml
Material | Glass bowl - Heatproof glass
Made in Japan
About Hario
The company has been dedicated to the design, production, and sale of heatproof glass since it was founded in 1921 and is the only heat proof glass manufacturer in Japan to have a factory. It's the leading glassware brand in the coffee industry.